Dharma. My new bicycle.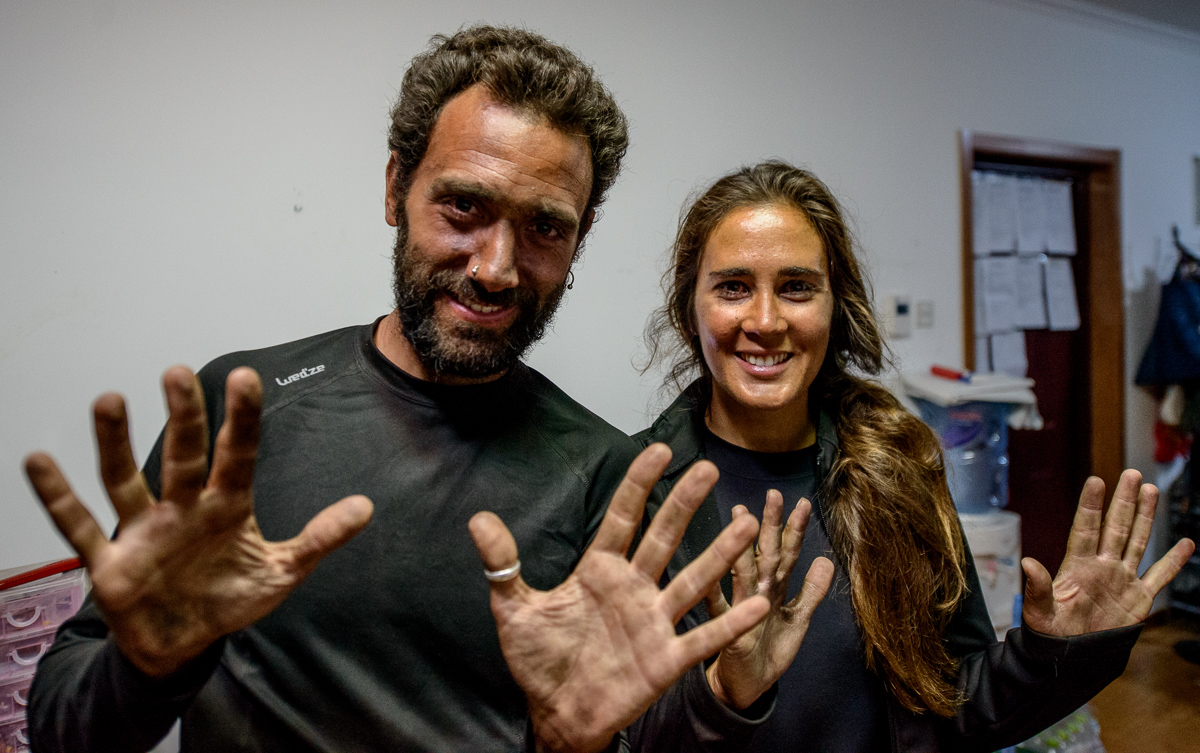 We crossed into China with a voracious appetite. It was not the hunger as much as the necessity we had to eat well, to eat delicious food and nothing better than being back in China to accomplish this. You pay the price though, of exchanging a fairy tale dreamland for being back at the factory of the planet and the return to it feels like the most brutal punch back to the crude reality. It was inevitable since sooner or later we would have to leave the tale anyway.
The poisoned earth
Already in the final stage of our crossing of the desert, on the way to Zamyn-Udd one could already the change in the horizon. Ahead of us, we were able to see the Chinese horizon and what used to be an immaculate blue sky vanished into a murky grey. Once in China, the remaining 300 km of Gobi desert were devoid of any attractive whatsoever. A flat terrain, infinite, dull, full of huge high voltage power lines towers, a massive increase in the traffic which was loud, fast and annoying and now with the added hindrance of a very strong headwind that was incredibly hard to tolerate. However, the worst would come in the final 300 km before Beijing riding across the scary province of Hebei 河北.
The incredibly high price that China has to pay for insisting in keeping a level of growth that is simply unsustainable, unsustainble for them and unsustainable for the whole planet, is nothing but outrageous.
Hebei is what goes on behind the stage, what you don't see in that China some media puts so much effort in presenting as the big boom, the sophisticated, the glittering, the luxurious, reaching development and progress levels never seen before, etc. Hebei is a part of China that few, if none, tourists ever visit. Entering Hebei is like going out to ride on a UFO around some galaxy and suddenly falling into a black hole. It is a demoralizing place where the most vital act of our existence: breathing, literally hurts your lungs. Hebei is, among other things, one of the many industrial zones of the country but specifically a coal production region. The environment is an spectacle of the utmost desolation. The air is dense in particles of dust, coal and the residue released into the air by the hundreds of chimneys of every factory that you find along your way, which are not a few. The traffic of endless lines of roaring trucks is inexhaustible, day and night. The sky, or at least what we think of a sky, virtually disappears in Hebei, there is nothing that you can associate to its name. The only thing you see is a thick permanent fog, undoubtedly poisonous, that deprive us from the blessing of the sun. It didn't take longer than a few kilometers of cycling along this creepy landscape to find ourselves with our faces filthy black, dirty as if we had deliberately painted them for some kind of military exercise. Hands, neck, clothes, everything turns to black, the soot accumulates on the skin in the form of a thick sticky disgusting layer. It is freaking scary to think that this superficial thing is the least important though, the really terrifying thing actually is to know that we are breathing this poison and that after having cycling in a tale, now we can feel the lungs hurt with every step we take on the pedal. Thousands of thoughts went through my mind at this stage, trying to comprehend how this can keep going on. It is this kind of behavior to perpetuate a model of a sick world based on excess and squandering, the very same that is destroying at an irreversible pace, the very grasslands of the steppe we had just come from cycling on, the same that is melting the glaciers or the snow on the peaks that we used to call "eternal", the one that increases the frequency and violence of the catastrophes, the one that is causing the desertification of originally fertile lands, the one that's exhausting the available fresh water resources bringing with it the extinction of so many animal species and ancestral cultures that can't simply keep on surviving. Although, needless to say this is not China's fault alone, it's everybody's fault for insisting in perpetuating this model of a world that we created. I can tell you straight away that the last day of cycling between
Zhangjiakou and Beijing was one of the most horrifying experiences in my life, and not because of the hindrances and annoyances which are superficial but for having seen with my own eyes the entrails of the self-destruction where we are heading to if we don't stop this in any way and fast. It happens in China, it happens in India, In Brazil and in all the industrialized world and if it doesn't happen in the rich countries (at least not that often) it's because they transfer their lethal practices to the periphery so they can execute them at their own will.
The anxiety and strong need for not extending our stay in this place made us stick to the saddle for 14 hours, breaking our dirty assess for 225 km until finally getting to house of hour greatest friends Shao Ming and Xiao Ming at 1 am, who were anxiously waiting for our arrival. It was an experience to reflect on, to promote changes in our mentality and the elections we make every single day of our lives. It's all about raising the maximum awareness and commit to a change, because it's either that or the end. I saw this a lot clearer than in the dozens of super documentaries with a tragic tone about climate change that I had ever seen before.
The smiles don't fit the tone of the message above but i wanted to show how we got to Beijing (and we both had already washed her face twice) probably happy about having left Hebei.
Two-hour-long showers and four consecutive washes of the same clothes was what it took to get the dirt we had on us, combining sheep smell and environmental pollution. We were back home once again. This time, we had planned to stay for a week only and this time it extended to 23 days, it was inevitable!
Dharma
For seven years I cycled with Nandi, the best bicycle I was able to afford in Tehran back in 2006 when in the term of one week I had decided to convert from backpacker to cycle-traveler and let the experience change not only my way of traveling but the way of feeling the world. Nandi is the name of the bull that serves as transport for Shiva, the God of Destruction
but without whom creation wouldn't have been possible. Nandi took me for more than 35.000 km across this world. The beginning was very hard but they transformed my life. Nandi was nothing but a rather simple mountain bike that along the years I converted into a hybrid more adapted to longer trips. Even so, no matter how much I got to love it, it never lost its nature of mountain bike and I have to acknowledge that my body hurt all over after long and strenuous days on the road. This always led me to yearn for those beautiful touring bikes that so many other cyclists I used to run into.
The test ride experience in Mongolia using Shao Ming and Xiao Ming's brand of touring bikes left me so satisfied that when I got back to Beijing I asked them: "can you adapt one of your frames to 26" wheels?". They had just come from the factory with a brand new improved version of the frame I had used in Mongolia and after studying the possibilities they said yes, and they were going to build a frame exclusively for me and that they would be my sponsors. What a treat to have true friends!. Only three months before, Shao Ming didn't even know us, he let us stay at his flat/workshop, we lived there for free, we became friends like brothers and they finally decided to sponsor me with the best model of their brand. And that's how Dharma was born, the name that I gave my new bicycle, a Boskey Overlander, the best bicycle that I've had to date. Chromo-Alloy (chromolly) 4130 frame of the highest quality in the market. It is so comfortable that I can spend a dozen hours on the saddle without feeling any muscular pain by the end of the day.
Dharma is a name of Tibetan origin and it is also the name of Buddha's doctrine and teachings for the path to enlightenment. With it, I will continue my path to Korea and Japan, Africa and beyond, and hopefully to my path to enlightenment. ;)